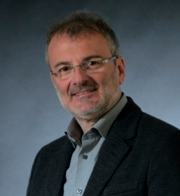 Dear Investors,
the Investor Relations section of Notorious Pictures is dedicated to you and the financial community at large. Although young, in just a few years our company has been able to establish itself among the Italian protagonists of the entertainment and media sector. Our goal is to constantly foster an advantageous dialogue over time, in line with the transparent approach that has always characterised us.
Founded in 2012, thanks to the skills of an already closely knit and very experienced team, Notorious Pictures immediately went on to become one of the leading independent distributors on the Italian film market. In 2015 we began international production and co-production activities and in 2016 we started executive production on behalf of third parties. By drawing on our consolidated relations with the major players in this market, we strengthened our business model in a market environment where ownership of rights will increasingly constitute a critical factor for success. The entry into production of television series will represent the next step in the growth of our business model, which has always taken account of the dynamics of a rapidly changing market characterised by new technologies and the changing ways in which content is used, spearheaded by the new generation.
Currently our company has a library of more than 380 films, the result of approximately Euro 20 million in investments made over the last 5 years, more than 60% of which have already been amortised.
Notorious Pictures is a leading producer and distributor of content across all entertainment channels. In the traditional film channel, Notorious Pictures directly oversees distribution activities, maintaining a direct relationship with both large and small operators, which allows us to better understand the sentiment and trends of the market. The strong relationships with all major Italian television broadcasters are reflected in multi-year agreements that allow us to optimally schedule our content buying and production policy. Notorious Pictures has also been able to establish itself as a major player in the rapidly evolving world of digital new media, by establishing close relationships with major Italian and international operators.
The listing of our company on the AIM Italia market in June 2014 was a source of great pride for us. In addition to allowing us to raise the financial resources that, together with a significant amount of self-financing, have allowed us to support the significant investments of recent years, the listing has given us the impetus for implementing the organisational and management discipline that allowed us to consolidate our structure.
We are proud of the trust that many investors have placed in us and we expect that many more will continue to be able to appreciate the value of our company in the future; we hereby reconfirm to all of you our commitment to the growth of value of our Company.
Guglielmo Marchetti
Founder and CEO